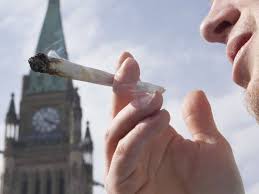 On June 7, 2018,  Bill C-45, the Cannabis Act was passed by the Canadian Senate. This lifted a 95 year old law prohibiting recreational marihuana consumption and possession.
Bill C-45 was voted in with 56 votes in favour and  30 against.
The new legislation is now before the House/Royal Assent for further assessment.
Once passed with Royal Assent, marijuana will be legal for recreational use across Canada.
The possession limit for individuals will be a maximum of 30 grams per person.
While this possession limit is legislated into Bill C45, other policies regarding marihuana use will be determined by provincial legislation, likely varying from province to province.
Each province will make determinations such as whether  marihuana will be sold through government-operated venders or through private industry sales locations; as well as the eligible age of purchase.
While Bill C-45  allows  individuals  to grow up to 5 cannabis plants , provinces are permitted to ban home-growing of marihuana. Both Quebec and Manitoba have already made such a ban.
With Bill C-45, the use of marihuana concentrates, topicals and unprocessed flower will be legal
Edible marihuana products will not be legal until at least another year has passed.
Marihuana use will be almost exclusively restricted to private residences and marihuana cafes will be prohibited.
The federal government is delaying the legalizing of cannabis until October 17, 2018, with the view that the provinces need more time to prepare.
Many hope that with the the Royal assent of Bill C-45, the federal government will begin the process to pardon those with criminal records for possession of cannabis.
Prime Minister Trudeau has said "There is no point looking at pardons while the old law is on the books," he said. "Once the law comes into force, we will start looking at the issue of pardons and criminal records."
There is currently no plan underway to grant pardons to those burdened with a criminal record for marihuana possession.
NDP MP Don Davies attempted to address this concern and pass a motion to "immediately provide pardons for those burdened by criminal records for cannabis offences that will soon be legal." Unfortunately the motion did not receive unanimous consent and therefore failed.
It is important to note, that recreational marijuana use is not yet legal and is still a criminal offence and the possibility of facing criminal charges for marihuana possession still exists until Bill C-45 receives Royal Assent.
The federal government has said the government intends to treat cannabis the same way as alcohol and tobacco.
Under Bill C-45, all producers of cannabis will have to be licensed by Health Canada, with provinces overseeing the distribution of the dried marihuana and other marihuana products.
The government has said that revenue generated from the legalization of marihuana is  expected to be used to cover costs related to policing, enforcement, setting up public distribution networks and creating public-awareness campaigns.
Marihuana buys will be subject to a tax on their marihuana  purchase with an excise tax of $1 a gram, or 10 percent on sales of more than $10. Of this marihuana tax, the federal government is to keep  25 percent and the rest will be allocated to provinces and municipal governments.
Know your rights! Contact Kostman and Pyzer, Barristers today for your free consultation!